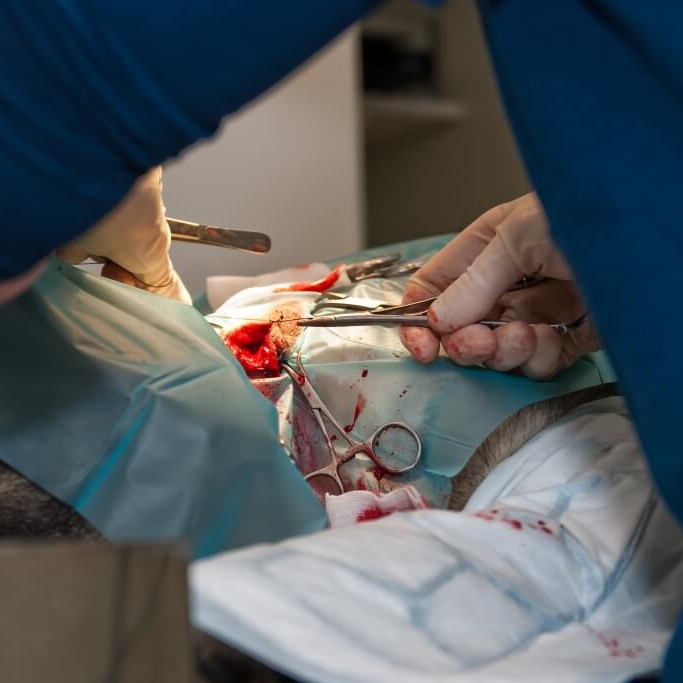 The operating room is where all major sterile surgical procedures are carried out. As a sterile environment is essential, the room is constructed so that this can be maintained.
When the patient is anaesthetised, the anesthesia is maintained with oxygen and isoflurane gas through a breathing tube. This practice encourages a rapid recovery, so that most of our patients will be able to return home on the same day of the surgery.
Kowloon Veterinary Hospital (KVH) nurses are trained in anesthetic techniques and they closely monitor the patient's progress to make the procedures as safe as possible. They use monitoring equipment and record all readings, including respiratory rate, heart rate, oxygen flow rate, isoflurane concentration and core body temperature.
After a thorough skin disinfection routine, the surgical area on your pet is surrounded by sterile drapes.
When the procedure is finished, oxygen is given until consciousness is regained. The breathing tube is removed and monitoring continued until the patient is fully awake.
Equipment found in the prep room and theatre include:
Autoclave for steam sterilisation of instruments
Fully adjustable stainless steel operating table
Full range of instruments required for each procedure
Powerful operating lamp to give excellent vision of the operating field
Anesthetic machine and circuit using isoflurane for rapid recovery with minimal after effect
Monitoring equipment to supervise the patient closely throughout the procedure including pulse oximeter to measure blood oxygen levels, thermal probes to monitor core body temperature and electrocardiography to measure the electrical activity of the heart.
Darvall Patient Warming System using permeable warm air blankets, which are extremely important to prevent low body temperatures in patients undergoing long operations
Surgical suction system with sterile probes to help with the rapid removal of abnormal fluids from body cavities and flushing solutions of sterile saline.
If you wish to discuss the benefits of any of our services for your pet, please call 2382 3300 and speak to one of our KVH nurses, or make an appointment with Dr. Amanda