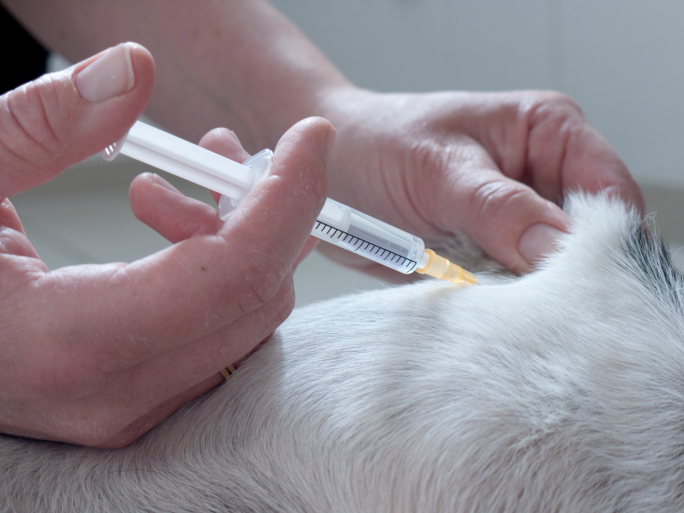 The vaccines we offer Kowloon Veterinary Hospital (KVH) clients are essential for protecting their puppies and dogs from disease.
Failure to immunise your dog can expose them to painful illnesses and in some cases, even death. KVH vets recommend two types of vaccination for dogs; a combination vaccine and the rabies vaccine.
Rabies
Hong Kong law requires dogs to be vaccinated against Rabies. Without proof of vaccination you cannot apply for a dog licence. The vaccine is usually given at or before 5 months of age. A follow up booster vaccination is required every 3 years.
The combination vaccine:
administered in a single dose. The first dose is required from 6-8 weeks of age; the second dose should be given at 12 weeks of age and a new third dose at sixteen weeks of age.
Booster Shots
A booster shot to maintain ongoing immunisation is required annually. The diseases covered by the combination vaccine are:
Adenovirus: A virus causing hepatitis, which infects the upper respiratory tract, affecting the liver, kidneys and eyes, frequently causing blindness.
Infectious Hepatitis: A viral infection affecting the liver.
Leptospirosis: A lethal bacterial disease that can affect humans as well, usually from water contaminated by the urine of infected rats or mice.
Distemper: This is a highly contagious viral disease.
Parvovirus: It is an often fatal and highly infectious virus, which can remain in the environment for long periods of time.
Parainfluenza: A virus, which causes infectious tracheobronchitis ('kennel cough'). If your dog is going into a boarding kennel, you will need to vaccinate him against Bordetella bronchiseptica (this is a cause of Kennel Cough.)
Purchase our comprehensive Senior Wellness Package, which includes all tests recommended to identify key senior health issues.