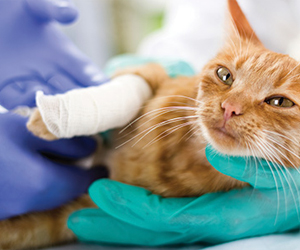 Orthopaedic surgery simply means any surgery that is related to bones, joints and ligaments. This includes procedures such as fracture repairs (fractured and broken bones), ligament repairs (severe sprains and tears) hip, joint and spinal injuries and subsequent surgery.
Our Kowloon Veterinary Hospital (KVH) vets are all internationally trained and have a high level of expertise in orthopaedic surgery. In addition, our hospital has a fully equipped surgical suite.
This technology enables us to perform many of the orthopaedic surgical procedures your pet may require such as:
Cranial cruciate ligament repair
Fracture (broken bone) repair
Patella luxation (knee dislocation and subsequent arthritis)
In the instance of a rare or complicated orthopaedic case, your pet will be referred to a specialist orthopaedic surgeon. However, we will still remain your pet's primary health carer. Our vets ensure you are actively involved in the decision making process to provide the best care and advice for you and your pet.
Our services and facilities are designed to assist in routine preventative care for young, healthy pets and excellent medical and surgical care.